Kids Club English Resources
€1.50
This fully editable pop-up card craft is perfect for reviewing topics or stories used during the school year or to practise summer vocabulary. The comprehensive Activity Procedures are packed with ideas to use this for a whole lesson or for part of your last classes.
Read More »
There are four collections of time and calendar songs: Telling the time; Days of the week; Seasons of the year; Months.
Seasons of the year songs
Dream Snow by Eric Carle is a great story to connect with a Christmas or winter theme without being too Christmassy. It's also great for revising counting, farm animals, weather and clothes.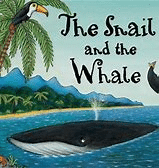 Kids follow the snail and the whale in their adventure around the world. Wonderful for exploring landscape, nature and weather language, this story also highlights the message to help others.
Will Stick Man make it back to his family for Christmas?
Focus on family, weather, seasons and animals vocabulary. It's also a great story for describing purpose. What uses can they imagine for a stick?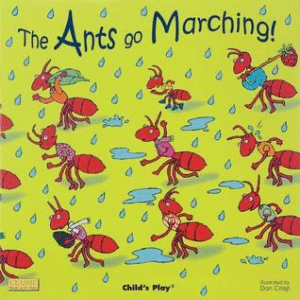 A wonderful song story that kids can learn a lot of language from. At a basic level, you can use it for counting and numbers practice but it is also great for rhyming, weather and even clothes vocabulary.
One of our favourites, this story captivates little (and not so little!) minds. Rich in language, kids will learn useful phrases and language to talk about feelings, nature, family & friends and more.
This fun puppet book is great for daily routines, house, chore and leisure vocabulary.
A nice way for kids to pick up some useful phrases, as well as language to talk about their daily lives.
Oi! Get Off Our Train is the story of a boy who has a dream about a train ride with his dog. They meet lots of endangered animals along the way. This story is a good springboard into topics such as transport, nature and the environment, animals and the weather.
This famous story is always a hit with the kids. Choose to focus on food, days of the week or the butterfly lifecycle. See our resource page for lots of useful related resources.
Goodnight Moon is a classic children's book that has stood the test of time. This is a lovely book to create quiet and calm moments or at the end of the day. It ties in nicely to the themes of routines and home.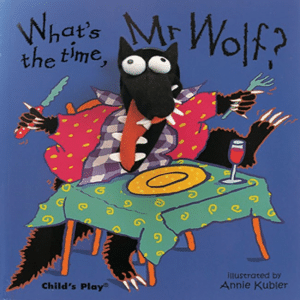 What's the Time Mr. Wolf? is a fun interactive puppet book. The hungry wolf goes through his day until….dinner time! This is the perfect book to learn daily routine language and telling the time. You can also focus on the house and furniture vocabulary in the colourful images.