There are four collections of time and calendar songs: Telling the time; Days of the week; Seasons of the year; Months.
Seasons of the year songs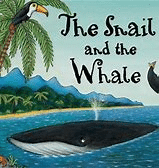 Kids follow the snail and the whale in their adventure around the world. Wonderful for exploring landscape, nature and weather language, this story also highlights the message to help others.