Dynamic and engaging crafts, worksheets, games and flashcards to teach transport vocabulary and description language. This pack is the perfect complement to We All Go Travelling By published by Barefoot Books.
This 110 page Activity Pack contains 9 different resources. There are 3 game card sets and 6 craft / worksheet resources. Each resource contains several different variations and can be completed in different stages. Every resource helps you include plenty of speaking and listening opportunities for a memorable and fun learning experience.
All worksheets and crafts are available in B&W and colour.
Each resource is included as a separate file to allow for easy access and printing.
What will my students learn?
This pack allows you to be flexible according to your context and the age and level of your students. You can use the activities to help your students learn key transport vocabulary but also colours, basic adjectives and adjective order. There are also several opportunities for classroom language and language which goes beyond the transport items.
Take a look at the preview, for a better idea of possible target language points.
Apart from learning language, they'll develop their fine motor skills, literacy skills, social skills, gain confidence, and develop their understanding of the world.
Comprehensive Activity Suggestions provide lots of ideas for activities to do before and after, and also give you ideas for interactive ways to conduct the activities for effective language practice.
Jigsaws –  There are two different images with different types of transport. One image includes air and road items, while the other includes water, rail and path items. Each jigsaw comes in three levels of difficulty. Follow the Activity Suggestions for fun ways to use them in games or as a craft.

Colouring sheets

– Choose from several variations according to ability and and the skills you want to practise. Include pairwork, read and colour, or even create spot the difference activities.
Wheel craft

–

A  great way to review transport vocabulary or transport stories and songs. Choose from several variations to create a multi-stage craft that is easy to manipulate. See the Activity Suggestions for fun ideas to do before, during and after.
Graphing dice and sheets

– Choose from three types of dice to create and use in games or get your students to make their own. Use with the graphing sheets for a great way to get kids using the language in groups in a collaborative way.
Sorting sheets

– Your kids make decisions about categorising the different transport items. Includes completed versions in colour and B&W too for colouring alternatives and checking answers. See the suggestions for how to conduct this activity in a fun dynamic way.
Fortune Tellers

– Another great way to review transport language. Choose one of the templates and see the ideas for different games to play.
Matching cards

–  Use in simple jigsaw activities, memory games and matching tasks. Great for opening routines too.
Mini-cards

– Excellent for a range of games and matching tasks. Sets include the items and colours used in We All Go Travelling By + 4 additional items. Print multiple sets for pair and small group work.
Flash Cards

– Use in a variety of ways to introduce and practice new language, develop literacy skills or as visual prompts for language games.

  
You might be interested in checking out these Story Resource Pages for songs, storytelling videos and other digital games.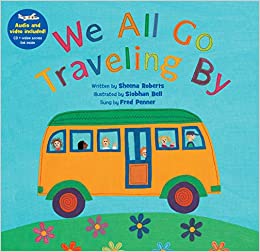 We All Go Travelling By is a catchy and colourful song story that is perfect for teaching about different types of transport. Kids learn colours, useful phrases in the chorus and descriptive words too!
Leer más »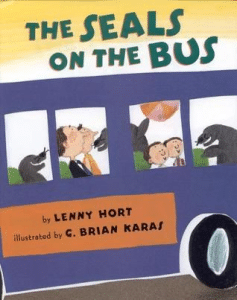 This picture book based on the Wheels on the Bus song is easy for kids to join in with. Kids enjoy predicting the next animal and the funny pictures. Good for learning animal language. What other animals could go on the bus? What sound do they make?
Leer más »
Oi! Get Off Our Train is the story of a boy who has a dream about a train ride with his dog. They meet lots of endangered animals along the way. This story is a good springboard into topics such as transport, nature and the environment, animals and the weather.
Leer más »