Zoo Animals Activities Bundles
Less planning, more learning! Save time preparing fun and engaging ESL lessons on the topic of Zoo Animals.

♦ Hours of fun, dynamic activities that you can use for any jungle theme.

♦ Perfect for working with 'Dear Zoo' and 'It's Mine!' by Rod Campbell.

♦ Flexible materials and activities for 6-10 lessons

♦ Suitable for mixed age groups or to use across a range of levels.

♦ Pick and choose the activities you want. All the activities are great value at around €1 - €2, with bigger and bigger discounts the more you buy.

♦ Get ALL the activities for just €12.45!

Ready to get

ALL

of the Zoo Animals activities?
Don't want everything? Pick and choose what you like!
Just add what you like to the cart. If you add 3 or more products, you'll automatically get 20% off everything in your basket.
Flashcards and game cards
Perfect for a whole host of whole class, small group and pair practice of your target language.
Play and learn super useful zoo animals vocabulary and descriptive language in a fun way.

♦ Includes 12 animals in both image and text: camel, snake, elephant, giraffe, lion, monkey, frog, parrot, tiger, bear, crocodile, dog ('dog' is in 'Dear Zoo' by Rod Campbell)

♦ Includes game ideas for hours of interactive practice and easy learning.

♦ A choice of three card types provide plenty of learning opportunities so your esl kids never get bored.
Crafts and games for drama, songs or story retelling
While you can incorporate drama and storytelling with any of the resources on this page, these resources are especially suitable. The animals match those in 'Dear Zoo' and 'It's Mine!' by Rod Campbell.
Super interactive Zoo Animals Wheel Crafts that get your ESL kids playing, learning and even storytelling.

♦ Includes cut and paste templates too! Great for sequencing skills.

♦ Follow the activity suggestions for lots of ways to integrate exciting English practice.

♦ Use independently or to retell 'Dear Zoo' or 'It's Mine!'

♦ ESL kids are super engaged and motivated to play games and use English with their very own story wheels.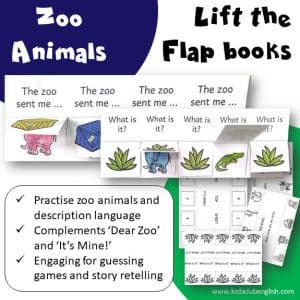 Capture the magic of flap books like 'Dear Zoo' and 'It's Mine' while teaching useful zoo animal and description language.

♦ Choose from a range of templates to easily differentiate according to ability, age and vocabulary focus.

♦ A super effective way to provide repetition of useful animal and description language and even phrases from 'Dear Zoo' or 'It's Mine!' by Rod Campbell.

♦ Use in story retelling and guessing games.

♦ Follow the tips and suggestions for fun ways to incorporate full sentences and story language in an interactive and dynamic way.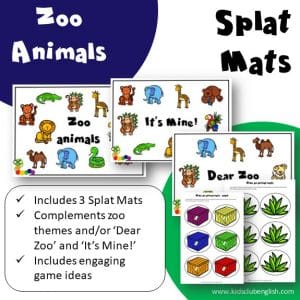 Easy, fun and effective to practise animals, description or even story language in groups, pairs or whole class.

♦ Includes 3 different splat mats with 12 zoo animals: tiger, crocodile, monkey, giraffe, lion, camel, elephant, snake, dog, parrot, bear, frog

♦ Detailed activity procedures give you lots of ideas for fun games.

♦ Fantastic for changing dynamics and keeping kids engaged.

♦ Use in story retelling activities with 'Dear Zoo' and 'It's Mine!'
Worksheets with a twist
Printables that are perfect for introducing and practising key story and zoo animals language. Follow the activity suggestions for dynamic ways to work on receptive and productive skills.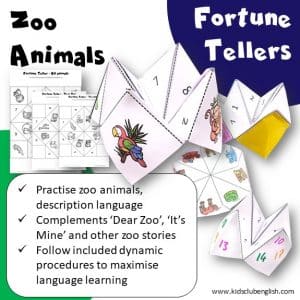 What a fun and effective way to practise and play with zoo animals, story language and so much more!

♦ Easy folding and cutting guidelines make this a hassle free craft experience.

♦ Includes ideas for ways to maximise language practice while your ESL kids make it AND to play with it afterwards.

♦ Encourages children to use the new language in a natural playful way.
Ideal for engaging young learners with zoo animals, colours and to activate story language.

♦ Includes 2 different images, each with 'colour by word' or 'colour by animal' options.

♦ Easy to support or stretch learners with different abilities or ages.

♦ Useful activity suggestions give you plenty of ideas to increase interaction, engagement and learning.

♦ The perfect complement to Dear Zoo or It's Mine! by Rod Campbell.
Games to make and play
All of these can be simply printed to play, but they are also fantastic for integrating even more language practice because the kids can make their own copies. Super useful for bringing English outside the classroom – your young learners will be so excited to play these at home with their families.
Save yourself tons of time and get

ALL

of these Zoo Animals Activities
Not sure how many resources you need?
Of course it depends on your particular context, but I'd like to give you an idea of how I've used them across multiple levels, lessons and age groups.
In general I follow this sequence:
Introduce the language and use activities to focus on understanding, i.e., the children have to listen and understand to complete the craft/game/worksheet.
Revise the language and give the children the opportunity to produce the language.
Practise the language in a freer way that lets the children experiment with the language.
Below is a sample lesson map with the resources.
Sample lesson resource map
Lesson 1: Flashcards and game cards; Splat mats; Colouring sheets or Jigsaw games and craft
Lesson 2: Splat mats; Bingo games and craft
Lesson 3: Flashcards and game cards; Playing cards and craft
Lesson 4: Playing cards games; Lift the flap craft; Dominoes games and craft
Lesson 5: Dice and graphing sheets; Wheel crafts
Lesson 6: Fortune teller crafts; Learning stations with all games and crafts used.
Note: There's more than enough material to cover in up to 10 lessons. With groups that have lessons twice a week, I would typically teach an 8 lesson unit on the topic.
What's more, each resource includes different templates so you can differentiate for different levels or repeat activities across year groups but using different templates.
For incredible value, get the complete set:
What do teachers think about Kids Club English resources?
Wow! I used this resource for one of my labs and it has been explosive. Children were super excited and of course, I was as well! Nothing to complain about! Great work!
I have recently started to use storytelling in my classes and ESL labs. Fiona's resources are a real treasure. Lots of useful tips and ready-to-use material to bring the story to life and help kids use the language. Excellent, couldn't ask for more.
The resources were great and saved me so much time, the teaching tips gave me ideas. We had a lot of fun with it : the kids loved the activities, learnt the animals and movements and understood the story. And I feel like there is so much more I could have done. Thank you !
I found this resources few weeks ago and now I'm always have a look first on this web. The range of activities are awesome!
I love the resources and the kids seemed to enjoy too. I had a hard time today with a mixed-age group (from 6 to 14!), but the abundance of differentiated activities Fiona offers made it much easier for me to make the time spent together meaningful.
Most importantly, my students really enjoyed the process of making their own mini book. It also served as an assessment, as I was able to see clearly which students were having issues with reading and matching – but it didn't feel like an exam or test for the students at all. I only wish I'd found this at the beginning of the academic year.
Frequently asked questions
Once you've had a chance to use your materials, don't forget to come back to leave a review. As a thank you, you'll receive a 20% discount on any other resource : )