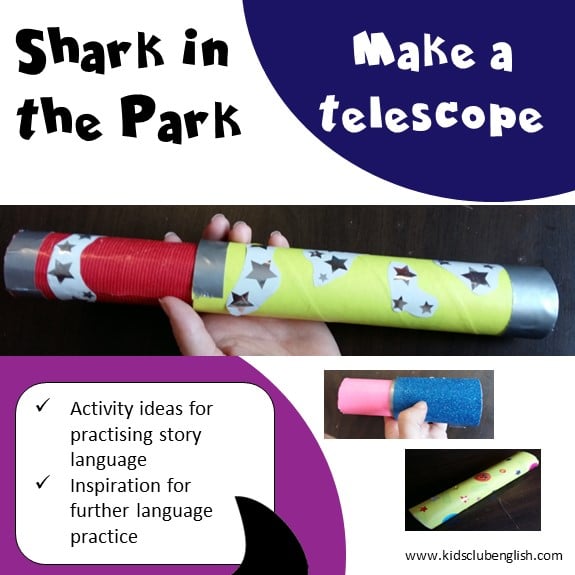 Shark in the Park - Make a telescope
Super simple ideas and instructions for making a telescope and inspiring ideas on using them to practise English.

♦ Easy to make for even your littlest learners.

♦ Includes lots of interactive story retelling and game ideas.

♦ An engaging craft your ESL kids are certain to remember.

♦ Use across multiple lessons for any language revision activity.
Ready for some telescope magic? Get your templates and lesson ideas here:
What will my ESL young learners learn?
You can use these telescopes for any language point, but if you're using them for the Shark in the Park story, here are some of the key vocabulary and phrases you can practise.
Don't forget the valuable classroom language you'll be helping them learn too!
Story characters and items
boy, dad/man, crow/bird, cat, shark, duck, pond, telescope, park, tree, flowers
Story phrases
Timothy Pope, Timothy Pope, looking through his telescope,
He looks at the sky,  (He looks up,)
He looks at the ground,  (He looks down,)
He looks left and right, He looks all around,
And this is what he sees…
THERE'S A SHARK IN THE PARK!
Oh no! It's just a ……
Structures
'be'
e.g. It's a (cat). It's not a shark. It isn't a shark.
adverbs 'just' and 'only'
e.g. It's just a dog. It's only a bird.
I can see…
e.g. I can see a shark! I can see blue!
Game and activity language
What can you see?
Where's the…? It's here. It's there. Is it…? Yes, it is. No, it isn't. What is it? It's a.. It's…Can you find the…?
Can I have..? Here you are. Thank you. You're welcome. Colours, scissors, cut, paper, card, sticker, glue, paint, tube, toilet roll, crayons, pens, pencils.
What do teachers say about the resources?
Wow! I used this resource for one of my labs and it has been explosive. Children were super excited and of course, I was as well! Nothing to complain about! Great work!
I have recently started to use storytelling in my classes and ESL labs. Fiona's resources are a real treasure. Lots of useful tips and ready-to-use material to bring the story to life and help kids use the language. Excellent, couldn't ask for more.
The resources were great and saved me so much time, the teaching tips gave me ideas. We had a lot of fun with it : the kids loved the activities, learnt the animals and movements and understood the story. And I feel like there is so much more I could have done. Thank you !
I found this resources few weeks ago and now I'm always have a look first on this web. The range of activities are awesome!
I love the resources and the kids seemed to enjoy too. I had a hard time today with a mixed-age group (from 6 to 14!), but the abundance of differentiated activities Fiona offers made it much easier for me to make the time spent together meaningful.
Most importantly, my students really enjoyed the process of making their own mini book. It also served as an assessment, as I was able to see clearly which students were having issues with reading and matching – but it didn't feel like an exam or test for the students at all. I only wish I'd found this at the beginning of the academic year.
Frequently asked questions
Once you've had a chance to use your materials, don't forget to come back to leave a review. As a thank you, you'll receive a 20% discount on any other resource : )