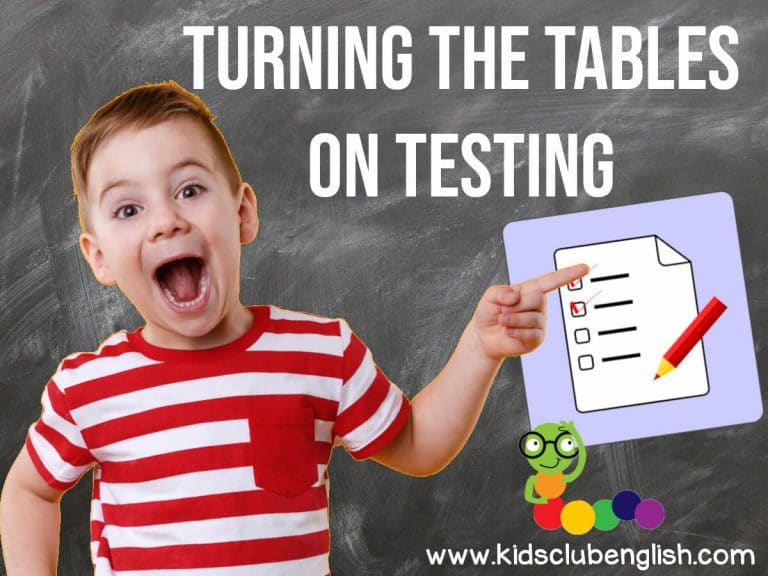 I was recently talking to some colleagues about assessment. There was a sense of frustration that young learners, here in Spain, seem to have endless tests. On a weekly basis they will have not one, but several tests, and this can lead to an unnecessary level of stress being placed on the children. More than this, it can lead to feelings of insecurity, anxiety and a cramming culture where the focus is on passing the test, rather than on learning. So, where does that leave us, as English teachers? We also need to assess our students, but we don't want to overload our students, and we definitely want them to be enjoying learning English.
In this article, I'm going to share one way I reversed traditional student roles, and involved my young learners and their families in an alternative approach to revision and assessment. I also share some FREE examples of 'test' documents and complementary resources I sent to the parents. You can download, edit and give it a go yourself if you like!
While my context may be quite different from yours, I hope that you might be able to incorporate some of these ideas into your own teaching.
The context
Who were the students?
Groups of between 8 and 12 students, aged 7 – 8, of a bilingual state school in Spain. They had English classes with me as an extra-curricular activity after school. They only had one hour a week of English with me, but had some science classes in English, as well as their regular English lessons.
What were they studying?
We were following a topic-based syllabus that focused mainly on speaking and listening skills. We didn't use course books, but instead the course was based around games and paper-based craft activities. Each unit included a series of crafts that aimed to facilitate vocabulary building and practise receptive and oral communication skills.
Why formative assessment?
Unlike a lot of teachers, I was free from the pressure to prepare my students for formal accredited examinations. I was also free from having to demonstrate that students had reach a certain level of English before progressing to the next level. Lucky me!
The main reasons for me to include an element of formative assessment in my courses were:
To give my students a sense of progress and achievement.
To build in regular revision of target language.
To foster communication with the students' families.
What did I do differently?
The tests I created were NOT DIFFERENT from a lot of typical vocabulary assessment tools. They included matching items, true/false, wordsearches, sentence completion, gapfills, short answers, etc. So, where's the twist?
The tests were NOT for the students, but for the parents.
I wanted to make sure I could revise what we'd been doing in class, and practise speaking and listening skills, but I wanted to empower the students and disguise the 'testing' part somehow. At the same time, I wanted to create more opportunities for language practice at home, and involve the parents in their child's learning.
What was the process?
As I mentioned previously, the courses were based around crafts and games rather than a course book. There were typically 4 main crafts. The 1st one worked mainly on receptive skills, the 2nd on productive skills, the 3rd was to be used more dynamically as a game or speaking activity, and the 4th aimed to revise and draw together the language we had practised.
The assessment cycle had 6 main stages:
We reviewed games and activities the kids could do with their crafts to teach their families English.
We completed the test in class together, so that they had an answer key to mark their their parents' answers.
The children took their crafts home and taught their families.
The children gave their families the test.
The children corrected the tests.
The children reported back to me about their parents' results.
While my courses had crafts as the main teaching tool for the kids, I think that a typical course book and accompanying games could be used in the same way.
Example test documents
Here are a few examples of the tests that the children gave their families. They are by no means perfect, but they will help to give you an idea. Feel free to download and adapt to your classes. The files are PowerPoint documents.
Communication with families
It was important that the families were on board with the process, so I sent emails and messages to make sure they understood what we were doing and why. I'm happy to say that most of them were really engaged and enthusastic about it.
I also sent them a document with photos of the crafts the children were bringing home, with suggestions of what their child could do to 'teach' them. I knew the children would need support with the activities, so I thought it was important to give the parents some instructions on what to do. I did try to emphasise that they should take the student role though, and give the reins to their child.
Example family communication documents
I sent emails and whatsapp messages to let families know when the children would be taking their crafts and tests home. I reminded them about the process and the purpose, and tried to alleviate any concerns they had. Accompanying the emails, I sent them a 'Parent Activity Suggestions' document. I wrote in English and (not very good) Spanish. Go ahead and download the PowerPoints and adapt to your purposes.
How did this work as an assessment tool?
Admittedly, I was more concerned with including more revision and communication, rather than with creating records of progress. Saying that, this process did give me a lot of opportunities to see what the kids were confident with, and what they needed more support with. Steps 1 and 2 (where we reviewed games and activities and then completed the test to create the answer key) were really typical classroom activities that could be used to collect information about a child's progress. The only difference was that I changed the perspective from the children's point of view. They were preparing for a task to be teachers, rather than feeling like they were being tested.
What were the pros and cons?
Pros: The kids really loved this. They were excited to be given the role of assessor, and were keen to share with their parents. It also really helped inform the parents about their activities in class. They got a lot more information this way, than by asking their kids what they had done in class that day. The kids got a lot more time practising English in a communicative way outside the classroom.
Cons: Creating documents with activity ideas for the parents after every topic was a bit time-consuming. If I were to do this again, I'd create one document with some core activity games and ideas and share it with them at the start of the year. After that, I'd only have to refer them to the document to point out relevant activities each time. Unfortunately, not all parents were as enthusiastic about it, but in most cases there was a family friend or obliging grandparent that could take the role of student instead.
Final thoughts
I think this was a really valuable experience for the children, and I encourage you to try something similar. As an assessment tool to record progress, it has its flaws. I definitely think it's possible, but a little creativity would be needed. I also think it would need to be complemented by other formative assessment tools, such as getting kids to reflect on their own learning. I also believe it's important to go beyond testing discrete vocabulary items, and to look at other skills outside of the main 4: speaking, listening, reading and writing. I'll explore that one in another article.
I'd love to hear your thoughts on this, and whether you have tried out any alternative approaches to formative assessment. Please leave your comments below.