Kids Club English Resources
Find more printable and digital resources to help you practise nature language on these story resource pages: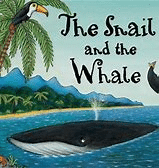 Kids follow the snail and the whale in their adventure around the world. Wonderful for exploring landscape, nature and weather language, this story also highlights the message to help others.
Digital Games - What a Wonderful World
This quiz game created on Wordwall practises some of the key language from 'What a Wonderful World' by Louis Armstrong. Play as a quiz or click through to the site to change the game type.