Kids Club English Resources
Find more printable and digital resources to help you practise nature language on these story resource pages: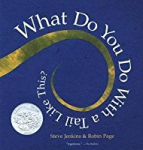 Kids guess which animal the various body parts belong too then learn about the amazing ways the animals use their eyes, nose, ears, tail etc. A great real-life picture book that will interest kids as they learn about animals, body parts and the 5 senses.
Digital Games - What a Wonderful World
This quiz game created on Wordwall practises some of the key language from 'What a Wonderful World' by Louis Armstrong. Play as a quiz or click through to the site to change the game type.