Kids Club English Resources
MANY of our story resources also help you practise animal vocabulary and language. Check out these story resource pages for printable and digital resources with a wide range of animals: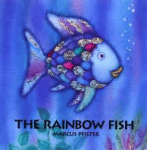 A beautiful story about sharing and friends. The story lends itself well to colour and number vocabulary. How many scales does the Rainbow fish have? How many special scales do the other fish have?