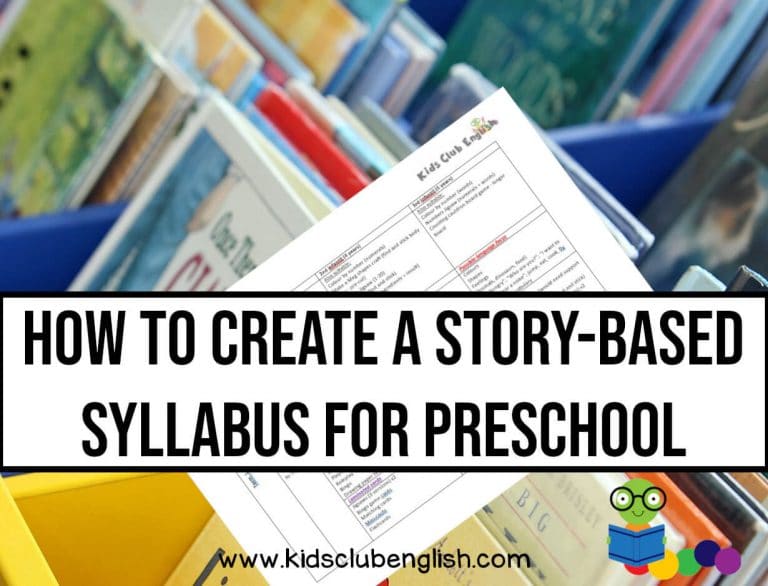 One of the main reasons I became freelance was because I wanted to start a course teaching very young learners English through stories. I had previous experience of teaching on similar courses, and I was keen to put together my own version. I quickly discovered that there's a lot more to course design than just picking a few books!
In this post, I'll outline the process I followed to create a story-based syllabus for preschool, and I'll share with you some of the syllabuses I have created. I hope it'll be useful to those of you thinking of doing something similar.
Steps in the process to create a story-based syllabus
There are several ways you can approach syllabus design, but here I'll describe what worked for me. You can follow the links to skip straight to the sections you're interested in, or go right ahead and download the example syllabuses and see the special offer.
Contextual considerations
This is not necessarily Step 1, but I think it is something to bear in mind throughout the process. Everybody's context is different. This will have an effect on what activities you decide to include, how much time you spend working on one story, and how you approach things like measuring progress.
Location
Some of us are working in kindergartens, others in language academies, in private homes, or somewhere else altogether. Similarly, you may have access to your own space where you can store lots of materials, have beautiful wall displays, and craft materials at your fingertips. Or, like me, you might be a visitor in someone else's classroom, with minimal space to store your teacher tools.
Your learners
Are you teaching a monolingual group or a multilingual group? Do you have mixed age groups? How many learners do you have in your class? Are they new to English, or do they have previous experience? Is it their classroom you're teaching in, or are they entering a new and exciting (and possibly scary) environment?
Time of day
How are your learners going to come to class? Tired after the end of a school day? Full of beans after morning break? This could affect the type (or at least the order) of activities in a class. It might not be as significant when planning the syllabus, but it's worth taking into account.
Time available for classes
You might have class every day, twice a week or even just once. How much time do you have to spend with the children? In one context I only saw the children once a week for an hour. In another context, I saw my groups twice a week for 45 minutes at a time. This will be important, in terms of how much time you decide to dedicate to each story and what you hope to achieve with each one. With my once a week classes, we had 3-4 lessons with each story, while with my other groups, we had 8 to 10 lessons.
Thinking about the time you have will help you decide how many books you would like to incorporate. When I first started, I wasn't including a lot of story retelling, or exploiting the language or themes in the stories very much. I no longer think this is the way to go! So, I went from having 16 books per year to between 6 and 10. You can read more about tips for retelling stories and find some simple craft ideas for retelling in my other posts.
Identifying learning objectives – Early years education
As English teachers, we are obviously concerned with teaching English, BUT we also know that we have to teach the whole child. This means having an understanding of the broader learning objectives for Early Years education. Having not studied these as part of my teacher training, I took my starting point by comparing the different core learning objectives in national curricula in Europe, the United States and Australia.
While the phrasing differs slightly, it is accepted that there are 3 prime areas:
Communication and language
Physical development
Personal, social and emotional development
These prime areas are also targeted within other specific areas:
Literacy
Mathematics
Understanding of the world
Expressive arts and design
You can see how these map out across a few different institutions and explore the frameworks in more detail through the links in the table below. Please note that literacy, mathematics and expressive arts and design are sometimes treated separately and sometimes integrated into other standards and objectives.
Early Years Foundation Stage (England)
Early Childhood Education and Care (ECEC) (Spain)
General objectives
The Early Years Learning Framework for Australia
The New York State Prekindergarten Foundation for the Common Core
Communication and language
To develop communication skills in different languages ​​and forms of expression.
Outcome 5: Children are effective communicators
Communication, Language, and Literacy – How children understand, create, and communicate meaning.
Physical development
To know one's own body and that of others, its action possibilities, and to learn to respect differences.
Not explicitly stated but integrated into other outcomes.
Physical Development and Health – Children's physical health and ability to engage in daily activities.
Personal, social and emotional development

To interact with others and progressively acquire basic standards for coexistence and social relationships, and to train peaceful conflict resolution.

To progressively acquire autonomy in their regular activities
Outcome 1: Children have a strong sense of identity.

Outcome 3: Children have a strong sense of wellbeing.

Outcome 4: Children are confident and involved learners.
Social and Emotional Development – The emotional competence and ability to form positive
relationships that give meaning to children's experiences in the home, school, and larger community.
Understanding of the world
To observe and explore family, natural and social environments.
Outcome 2: Children are connected with and contribute to their world.
Cognition and Knowledge of the World – What children need to know and understand about their
world and how they apply what they know. (Direct reflection of the content competencies and knowledge of the Common Core Learning Standards.
UNESCO also reflects these standards and highlights their importance:
In my case, I'm not a mainstream preschool teacher, but it's important for me to know that I should aim to foster learning and development in these key areas through the activities I choose to include in my syllabus.
Identifying learning objectives – Language goals
In order to identify the main language goals for my preschoolers, I looked to the main assessment bodies in my context: Cambridge and Trinity. Both their suites of exams are aligned to the CEFR (Common European Framework). I focused on Pre-A1 and A1 levels to see what should generally be covered at those levels. You can see the results in the image below, and download your own copy if you wish.
HOWEVER, while I think it's a good idea to base a preschool syllabus around some of these functions, topics and lexis, I certainly don't think that the language learning should be restricted by it. In fact, it can't be! So much of the language learned in my classes comes through interactions in class and unplanned exchanges. Of course, part of the reason for using stories as the basis for a course is exactly because they contain such a rich variety of language. There are a lot of useful phrases and structures that they learn that go way beyond what is in the summary table.
Selecting appropriate stories
I wrote about this in more detail in my post about How to use stories in the EFL/ESL classroom. When evaluating a story for a preschool English course it must meet certain criteria:
It must match the conceptual level of the children. Can they connect with the characters and events? Is anything too abstract?
It has engaging and supportive illustrations. Do the illustrations help the children make sense of the story? Are they attractive? Are there a lot of things that will interest them in the pictures?
It has a predictable rhythm and sequence. Will they be able to enjoy predicting what comes next? Are there possibilities for the children to interact with the story and experience satisfaction at having their expectations met?
The linguistic level is appropriate. Will you be able to tell the story in a simpler way, if the language is too complex? Remember it doesn't have to be super simple, but you need to think if you can adapt overly complex sentences. You can see lots of examples in How to adapt stories for teaching English.
After you have found several stories that match those criteria, you need to make sure you have a balance between different story types:
Song stories – the illustrations support a song. Some examples of these are There Was an Old Lady Who Swallowed a Fly, Here We Go Round the Mulberry Bush, I Am the Music Man and The Ants Go Marching.
Chant / pattern stories – there are repeated patterns throughout the book, usually without a complex narrative. These would include Brown Bear, Brown Bear, What do you See?, From Head to Toe and Walking Through the Jungle.
Narrative stories – these stories have a more complex narrative, more characters and a clear beginning, middle and end. This category would include The Three Billy Goats Gruff, Peace at Last, Elmer, and The Very Hungry Caterpillar.
Each of these story types has advantages, and I would aim to include a balanced mix in your syllabus. Make sure that you include some narrative stories, as these are the ones in which the kids can get more involved with the story events and engage meaningfully with the content.
Identifying specific language goals and learning opportunities in each story
I go through each story and map out the possible vocabulary groups, useful phrases, and potential grammar structures that might be exploited with the story. This, in turn, helps me think of other activities we could do around the storytelling. At this stage, I am also thinking of possible adaptions to more complex language that might help me meet some of those broader language goals outlined above.
Apart from the language itself, there will be concepts, morals or ideas you might want to explore with the children. This is a good point to note them down too. Remember those Early Years Education learning objectives? This is where you can think about how each story might help in those key areas:
Understanding of the world
Personal, social and emotional development
Communication and language
As an example, take Meg's Eggs. This is a story of a witch who casts a spell to make some eggs for supper. Instead of creating your usual chicken eggs, she creates dinosaur eggs. The eggs hatch one by one, and like the witch, owl and cat, they are very hungry! That's fine, until the last egg hatches and out pops T-rex. Guess who it wants to eat?! All is well when Meg, the witch, casts another spell and shrinks them to minature dinosaurs.
Possible language focus
Concepts & themes to explore
Colours
Shapes
Numbers
Feelings & emotions
Animals
Dinosaurs
Food
Halloween vocabulary
jump, eat, cook, fly
"I'm hungry"; "Who are you?"; "I want to (eat)"; "hear a noise"; "What a surprise!"
How many..?
What is it?; What are they?; There's a; There are

Animals that come from eggs
Sizes of different kinds of eggs
Herbivores, carnivores & omnivores
Dinosaurs
Cooking and recipes


Structuring the order of the stories throughout the year
There are a few important things to consider when deciding what order you want to put your stories in the syllabus:
Relevance of concepts
As previously discussed, we don't want to include concepts that the children are not going to be able to grasp in any of our selected stories. All of our content, should be accessible and easy for the children to relate to.
At the beginning of the school year, you might be meeting new students for the first time. They might be meeting each other for the first time, and it might be the first time for them in an English class. They will be a mixed bag of emotions! For that reason, I like to include a story at the beginning of the year that will help me create the space to discuss feelings, or at least give the opportunity to the children to voice their feelings in relation to the book characters. It can often be a nice way to get to know the students a little.
Language focus
With the first book, I like to be able to include language that the children might already know. This helps give them confidence, and sets them at ease. I also want to get an idea of what they might know, so that I can build on it. In the picture above, Meg's Eggs is a good choice because the brightly coloured pictures facilitate reviewing colours. There are also plenty of opportunities to review counting.
As the course progresses, I look for opportunities to recycle language, and build on phrases that they have already seen. In the example, I have The Three Billy Goats Gruff after Peace at Last. With Peace at Last, I practise, "I want to sleep", then with the Goats story, "I want to eat grass"; "I want to eat you!" This can continue into the Hungry Caterpillar with different foods, e.g. "I want to eat an apple"; "I want to eat an icecream".
Story types
When selecting stories, I said we should aim to have a mix of song stories, chant/pattern stories and narrative stories. When deciding the order of stories in the syllabus, we need to try not to have too many of the same story type in a row.
Seasonal content
It's always nice to tie in with holiday and seasonal content throughout the year. Personally, I'm not a huge fan of spending too much time on Christmas vocabulary or exploring Easter themes, etc. In my case, I am only seeing my learners once or twice a week, I know that they are already covering these topics in their normal school day, and I have doubts about diversity and inclusion issues around these themes. BUT it's not really about what I think, and more about what the kids are thinking. I aim to try and have stories that can connect to the themes, so that the children have the opportunity to express their thoughts and excitement around different holiday times. In my example above, Meg's Eggs ties in with Halloween, The Very Hungry Caterpillar ties in with spring, and We're Going on a Bear Hunt ties in with summer adventures and exploring.
Generating Activity ideas and Content
Now you have your stories, structure, learning objectives and language goals, it's time to think of ideas and source content. This shouldn't be too in-depth. You're creating a syllabus, not individual lessons plans after all.
As you might know, I love bringing language to life through arts and crafts activities. I generally make sure I have flashcards, game cards and a handful of arts and crafts activities for each story. I also try to think of other games and songs that would connect well with the story topics. You can explore the story resource pages on this site for ideas. Other places I go for inspiration are Pinterest and https://www.teachingideas.co.uk/
Example story-based syllabuses
These are some syllabuses I created to use with a small team of teachers I was working with in the infants department of a local school. We were using the same syllabuses with 3 year olds, 4 year olds and 5 year olds. The lessons were obviously not the same, but we selected activities from the syllabuses that would be age appropriate. We used materials from my Story Activity Packs, which include differentiated worksheets for each activity. For that reason, I chose to divide the activities into age groups. That made it easier for the teachers to see which resources might suit their groups.
I also included three other sections: Laminated cards, Other activities and Possible language focus. These sections were to let the teachers know what other resources were available and to help them prioritise the language they wanted to focus on with their group of learners.
You'll notice that these syllabuses are not very prescriptive. I believe it's important to be flexible. Each teacher will know what their learners need, and equally the learners themselves will bring so many of the learning opportunities to class.
In these examples, there aren't a lot of other activities included in the lists, particularly the activities that might support exploring concepts and themes in more depth. This doesn't mean to say, they're not important! These documents were, as I said, more to guide teachers to the resources that were provided.
Special offer
If you would like to order a set of our Story Activity Packs to use with your story-based syllabus, you get 20% off your purchase. You just need to order a minimum of 6 Story Activity Packs and enter the discount code: STORYPACKS when you go to checkout. That means you can get your materials for an entire course for less than €30!