Telling stories is a great way to teach kids English. When choosing a story, one tip is to make sure that the language is not too difficult and that there is plenty of repetition of vocabulary and phrases. Does that mean we have to discard any story that doesn't meet that criteria? Not at all!
I'm sure you can all think of favourite storybooks that are engaging for lots of other reasons. All we have to do is consider how to tell the story in a way that will be more accessible for the learners. In this way, they will not only benefit from enjoying a motivating and memorable storytelling session, they will also have a much better chance of learning useful English vocabulary and phrases.
So, all we have to do is think about the story in the planning stage and adapt the language a little. This may involve SIMPLIFYING, ADDING or SUBTRACTING  language from the orginal story. This post will look at some simple steps for how to adapt stories effectively and give you some of our own examples.
So, you've got a story you think your kids would enjoy because of one or more of the following:
It has a good storyline with a clear message.
It has engaging colourful pictures.
It has a topic that the children will identify with.
It has interesting characters that will appeal to your learners.
It connects well to a topic you're working on or are about to introduce.
What do I need to consider to adapt a story?
Next, you have to look at the language in the story and decide if there's anything that might need adapted. Key things to consider are:
Vocabulary frequency – Is the vocabulary frequent enough? Do I want my learners to acquire this vocabulary? Is there anything more useful I could use instead?
Grammar complexity and sentence length – Is the grammar too complex? Will my learners be able to understand the key message or will they get lost in long, complex sentences? Remember that the children will start to switch off if they can't pick out key words from what you are saying. This will be much easier for them, if the structures are shorter and simpler. It also makes it much easier for you as the storyteller to give emphasis in your delivery.
 Target language – What language or phrases would you like your kids to be able to learn from the story? Maybe there is some language you've been working on in class that you could include in the storytelling. Maybe you'd like your students to get a feel for a certain structure you're planning on doing more focused activities with later.
Repetition – Children (and adults!) need to hear a language item several times before it can be acquired and used productively. Does your story contain plenty of repetition of language you think would be useful for them to acquire? If it doesn't can you add it?
How do you adapt a story to include more frequent vocabulary?
Many stories include wonderful descriptive language that is part of the magic of the story, especially for children whose first language is English. The author may also make vocabulary choices because it creates a nice rhyme. Julia Donaldson's stories are great examples of these. While we don't want to lose this magic, we need to remember that our kids are learning English as a second language and our aim is to equip them with the language they need to communicate.
Here are some examples of how we adapted vocabulary from Monkey Puzzle by Julia Donaldson and Axel Scheffler.
"My Mum isn't a great gray hunk. She hasn't got tusks or a curly trunk. She doesn't have great thick baggy knees. Any anyway, her tail coils round trees."
Adapted story for EFL storytelling
My Mum isn't grey. My Mum doesn't have a trunk. My Mum has a long tail.
You'll notice that I have omitted some language, rather than substituting. Sometimes this is all that's needed. I have also changed the grammar (more on that below!) If there are less frequent words that don't add significantly to the message, consider leaving them out.
2. Grammar complexity and sentence length
How do you adapt a story to simplify the grammar?
While very young learners are much more tolerant of ambiguity than older kids and adults, they have shorter attention spans and will be much more engaged in your storytelling if they can understand more of what you are saying. Shorter utterances also work better for interactive storytelling, so it is easier for you to ask questions to involve your learners or give them the opportunity to join in.
One benefit of storytelling, is that the learners can internalise grammatical structures without them being explicitly taught. This involves the children subconsciously internalising patterns, such us (SUBJECT + VERB + OBJECT) or (ADJECTIVE + NOUN). Of course, eventually, we'll want our students to learn and internalise more complex structures but at these beginning stages of learning a language, it might be best to help our students internalise the basic grammar structures first.
Look at these adapted examples from Elmer the elephant by David McKee.
"Elephants young, elephants old, elephants tall or fat or thin. Elephants like this, that or the other, all different, but all happy and all the same colour."
Adapted story for EFL storytelling
There were big elephants, small elephants, old elephants, young elephants, fat elephants, thin elephants, tall elephants, short elephants. But they were all the same colour. They were grey.
In this example, I changed the adjective order because I wanted my learners to get used to hearing the adjective before the noun. I also included the full sentence: 'there were'; 'they were'. 
You'll also notice I added some vocabulary too, because I wanted to teach opposite adjectives: big, small, (tall), short.
"It was Elmer who kept the elephants happy. Sometimes he joked with the other elephants, sometimes they joked with him. But if there was even a little smile, it was usually Elmer who started it."
Adapted story for EFL storytelling
All the elephants loved Elmer. They played games. Elmer made the elephants happy.
In this case, I avoided the relative clause and conditional sentence. I also decided to omit 'joked with' and substituted it for a simpler phrase with more frequent vocabulary.
In these examples, I kept the past tense but other stories can easily be adapted to teach in the present tense. Have a look at our simplified version of The Very Hungry Caterpillar.
How do you adapt a story to include your target language? 
This is an area that will be very unique to each of your teaching situations and the stories you want to use but as a general rule, I try to make sure that all my storytelling sessions include phrases that the kids will be able to join in with and start to include in their active language repertoire. Stories are fantastic for this, because they often allow you to target phrases that might not typically appear in a young learner's coursebook.
Below are a couple of examples of where I have adapted the original language to include my target phrases.
Peace at Last by Jill Murphy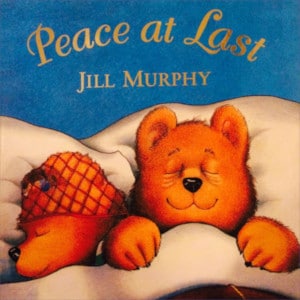 "Oh NO," said Mr. Bear, "I can't stand THIS."
Adapted story for EFL storytelling
"Oh no!" says Daddy Bear. "This is terrible".
With this story, I wanted to revise family vocabulary, so I substituted 'Mr.' for 'Daddy'. I also wanted the kids to pick up the structure, 'this is' + adjective. In other classroom games and activities, we used similar phrases: 'This is great!'; 'This is fun!'; 'This is boring', etc.
Stick Man by Julia Donaldson and Axel Scheffler
"Stick Man, oh Stick Man, beware of the dog!"
Adapted story for EFL storytelling
"Oh oh! Stick Man ! Be careful! There's a dog!".
While 'beware of the..' is a nice phrase, I wanted the kids to acquire, 'Be careful!' because it is more frequent. I also wanted them to internalise the structure, 'There's a..'
How do you adapt a story to include more repetition?
You will easily find story books for kids that include a lot of repetition. This is the case with Stick Man, Monkey Puzzle and Peace at Last in the examples above. If there are already areas of repetition in the story, then your task is easy! You simply need to make sure that the language that you repeat is adapted to something you think will be more useful and accessible for your students. For example, in Monkey Puzzle, there are repeated patterns every time the butterfly thinks it has the answer but the vocabulary changes each time:
"Quick, little monkey! She's over here." / "I know where she is, then. Come this way." / "She's just round the corner, without a doubt".
To include more repetition of language for the students to recognise, I adapted these parts of the story to, "I know! Come with me."
Other stories might include some repetition but not enough. That doesn't mean you should give up on the story though! Add it in! See these examples with The Three Billy Goats Gruff by Paul Gadone.
The Three Billy Goats Gruff
"They wanted to go up the hillside to a fine meadow full of grass and daisies where they could eat and eat, and get fat."
Adapted story for EFL storytelling
The goats are hungry. They want to eat grass. "I'm hungry. I want to eat grass." (small goat) "I'm hungry. I want to eat grass." (medium-sized goat) "I'm hungry. I want to eat grass." (big goat)
I adapted the language to make it simpler but used different voices for the characters in the pictures to repeat the same phrase.
The Three Billy Goats Gruff
"And I'm going to the meadow to make myself fat." (goats)
"No, you're not," said the Troll, "for I'm coming to gobble you up!"
Adapted story for EFL storytelling
"I'm hungry. I want to eat grass." (goats)
"I'm hungry. I want to eat YOU!" (troll)
Final thoughts and top tips to adapt stories
When choosing a story, don't dismiss a potential class favourite because you think the language is too difficult. You can make it work!
Don't think that just because a story includes a lot of repetition and colourful pictures, the kids will engage and learn a lot from it. Make sure the language is frequent and accessible enough. If not, adapt!
Remember to practise first! It's essential that you at least think through what you will say with each page. Don't try and wing it. It doesn't work, believe me. Been there, done that!
Enjoy it! The kids will feed off your enthusiasm and you'll get such a buzz when they start experimenting with that adapted language of yours.